| Services | Guest | Members |
| --- | --- | --- |
| Blowout | $45 | $35.99 |
| Updo + Blowout | $100 | $90 |
| Updo Dry Styling | $70 | $60 |
| Dry Style | $35 | $35 |
| Little Ones Blowout (10 & Under) | $30 | $30 |
| Services | Guest | Members |
| --- | --- | --- |
| Classic Lashes Full Set | $189.99 | $89.99 |
| Volume Lashes Full Set | $209.99 | $119.99 |
| Classic Lashes Refill | $89.99 | $69.99 |
| Volume Lashes Refill | $109.99 | $89.99 |
| Add Volume Hybrid Lashes | $15 | $15 |
| Lash Bath | $10 | $10 |
| Lash Extensions Removal | $30 | $30 |
| Services | Price |
| --- | --- |
| Permanent Extensions | $495+ |
| Extensions Refitted | $120/hr |
| Express Smoothing Treatment | $99 |
| Natural Keratin Smoothing Treatment | $300 |
| Hairline Keratin Treatment | $80 |
| Express Makeup | $35 |
| Full Face Makeup | $60 |
| Blow to Go | $125/hr* |
| Glam to Go | $175/hr* |
| Services | Price |
| --- | --- |
| Braid | $12 |
| 10 Minute Scalp Massage | $12 |
| Reparative Protein Treatment & Scalp Massage | $30 |
| Extension Styling or Clip-in Application | $12 |
| Instant Therapy Mask | $12 |
| Root Conceal Spray | $5 |
| Temporary Lashes | $15 |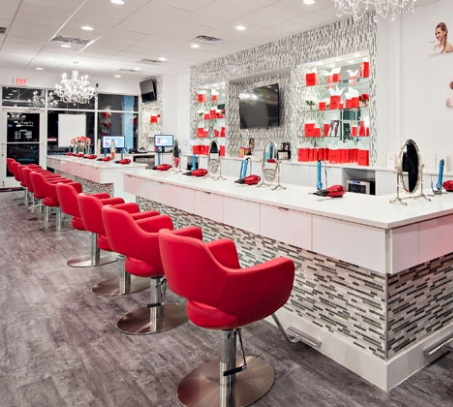 EXPERIENCE IS KEY
Our team of highly trained, talented stylists work with all types of hair using the best tools in the industry. We create beautiful blowouts, whether your hair texture is curly, fine, short or long. You'll get a smooth style that guarantees perfection!
HAIR CARE EXTRAORDINAIRE
We only want the 'Cherry' best for you! Cherry Blow Dry Bar uses the best brands, including Blowpro and Pureology hair care, HotHeads hair extensions, Beauty Addicts and Ecru Beauty professional makeup and Keratin Complex repair and treatment systems.
* We offer our services 'on the go' and accommodate parties & events! For more information and quotes, contact your local Cherry Blow Dry Bar.